Master Resell Rights Included!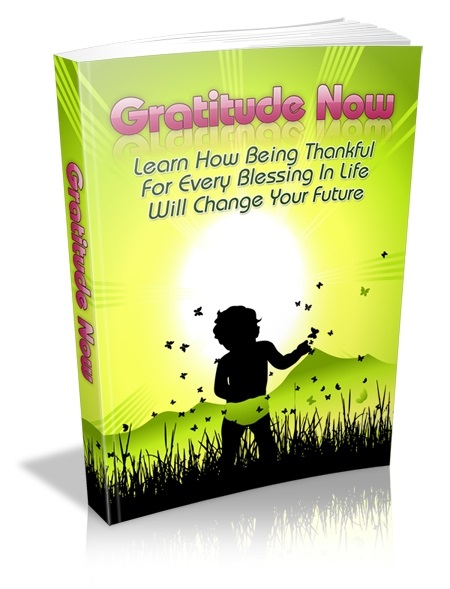 Learn how being thankful for every blessing in life will change your future … We do not live in an existence of random accident or luck. We live in a world that operates by laws — predictable, repeatable, perceivable laws. There's a law of gratitude and appreciation, and if you're to get the results you are looking for, it's utterly essential that you ought to abide by this law.
So what is this law of gratitude and appreciation and how does it function? It's a practice of the law of cause and effect. The law of gratitude and appreciation is the innate principle that action and response are forever equal and in opposing directions.

Here's what this entails – we understand that everything we place attention and emotional energy on, great or foul, will one of these days come out in our lives. The universe, and our subconscious, doesn't recognize great from foul, and they address fear and exuberance precisely the same. If we're placing energy on it, we're establishing an order for it. It's crucial, then, to be placing positive energy on what we require, not damaging energy (fright, concern) on what we don't wish for.

Gratitude and appreciation is so crucial as it's a really high energy positive vibe of thought. It's strongly attractive! It ties us with the origin of happenings. You can't use a great deal of power without gratitude and appreciation as its gratitude and appreciation that keeps you tied with power. If we're grateful and appreciative about everything, we're centering on what we require. It"s a way of making a point that we're placing the greatest possible positive energy on our wants, and keeping energy from the uncertainties and fears that we don't wish for.

In this ebook, learn the steps to put gratitude and appreciation to work for you.

ADDITIONAL INFORMATION:
eBook Format: Adobe PDF
Platform: Windows and Macintosh
Download Format: Compressed .ZIP
File Size: 750 KB
Master Resell Rights: Yes!
Sales Page Included: Yes!
You will get an instant download of this product after purchase.