Eternal Life and You – $2.50
Master Resell Rights Included!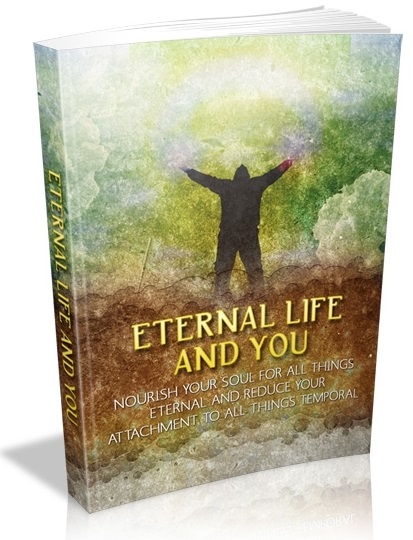 Nourish your soul for all things eternal and reduce your attachment to all things temporal … For centuries, spiritual precepts have pointed us to the heart and soul as the source of wisdom, truth, peace, and eternal life. We call it the heart and soul because these deeper realities are felt most strongly in the region of the physical heart.
But, the spiritual heart and soul isn't limited to a location in your body. The heart and soul is the totality of your connection with the crucial qualities and greater dimensions of your true nature as limitless existence. Any full exploration of the bigger truth of your existence must include a discovery of the capabilities and qualities of this tender, loving, and wise aspect of your true nature is a pointing beyond the experience of the Heart and its wisdom, peace, and love to the possibility of acknowledging these essential qualities as who and what you are.

The heart and soul with all its joy, satisfaction, peace, love, and wisdom isn't simply something you may experience more totally; it's what you've always been and always will be. In realizing your true nature as this fullness of existence, you may ultimately rest from worry about worldly possessions.

The truth opens up the heart and soul. This capability to sense the truth is something we all already bear. We all have a heart and soul that's already precisely showing us how true matters are. Anything that places you in touch with more of the reality opens up the connection to the spiritual. Once your experience is imparting more truth, there's a sense of opening up, softening, easiness, enlargement, fulfillment, and gratification …

The fullness of existence is likewise revealed in the small truths that comprise our lives. Existence is never harmed by the limited perspectives we go through. Being isn't dependent on any specific way of sensing your self nor even on the absence of a sense of self. Existence is already resting inside the endless opening and closing of your heart and soul, so you may as well savor the ride.

ADDITIONAL INFORMATION:
eBook Format: Adobe PDF
Platform: Windows and Macintosh
Download Format: Compressed .ZIP
File Size: 4.20 MB
Master Resell Rights: Yes!
Sales Page Included: Yes!
You will get an instant download of this product after purchase.