Master Resell Rights Included!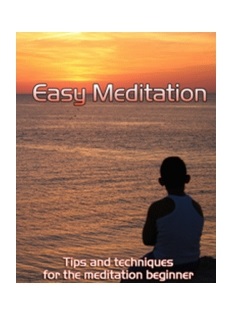 Tips & Techniques for the Meditation Beginner … Using meditation on a regular basis gives our mind a chance to quiet itself and adjust to the stresses and strains that are part and parcel of our modern daily life. There are many different methods of meditating, but they all lead to the same place.
Meditation itself is simply the process of quieting our mind. Gradually, your mind becomes calmer. The "chatter" that's often there becomes less. And you start to move mentally to a more tranquil place.

CONTENTS:
What is Meditation?
How Do I Start Meditating?
Different Types of Meditation
Breathing Meditation
Walking Meditation
Healing Meditation
Zen Meditation
Guided Meditation
Chakra Meditation
Christian Meditation
Japa Meditation
New Age Meditation
And More …
ADDITIONAL INFORMATION:
eBook Format: Adobe PDF
Platform: Windows and Macintosh
Download Format: Compressed .ZIP
File Size: 397 KB
Master Resell Rights: Yes!
You will get an instant download of this product after purchase.