The Natural Strengthening Properties of Organic Healing – $2.50
Master Resell Rights Included!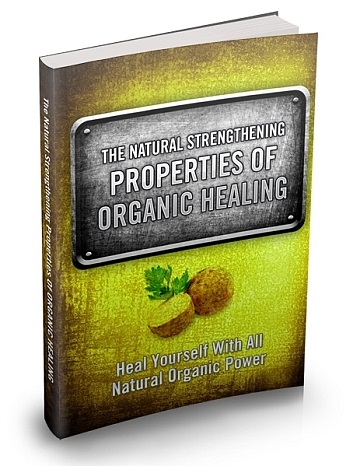 Heal yourself with all natural Organic Power! Only in more recent times farmers and others in the food growing or producing industry have started to use certain elements in their quest to be more competitive or simply to be able to increase the amounts or speed growths of something. These additives are purported to contain harmful substances if consumed by humans.
The term organic is derived from the process used by farmers who diligently avoid using any bio-persistent chemical pesticides, fungicides and fertilizers. They are very cautious in the methods they used when tending to the quality and quantity of their productions.

As such food produced this way are accredited to be very safe for human consumption. These farmers produce these products with emphasis on the use of renewable resources and the conservation of soil and water while continuing to ensure the quality of the environment for the future generations.

This ebook includes the following chapters:
Chapter 1:
What Does Organic Mean
Chapter 2:
The Link Between Additives In Food And Our Environment And Disease
Chapter 3:
Organic Juicing Benefits
Chapter 4:
Benefits Of Organic Detox
Chapter 5:
Healthy Foods For The Liver
Chapter 6:
Healing Foods For Heart Disease
Chapter 7:
Healing Foods For The Brain
Chapter 8:
Benefits Of Going Organic With Cleaning Products
Chapter 9:
The Benefits Of Adequate Water
Chapter 10:
How To Shop Wisely For Organic Foods And Products
Wrapping Up
ADDITIONAL INFORMATION:
eBook Format: Adobe PDF
Platform: Windows and Macintosh
Download Format: Compressed .ZIP
File Size: 2.71 MB
Sales Page Included: Yes!
Master Resell Rights: Yes!
You will get an instant download of this product after purchase.