Solar Power for Energy – $2.50
Master Resell Rights Included!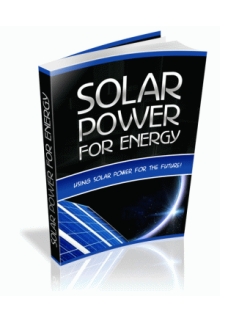 You have probably heard about solar power and how it is the new and upcoming alternative energy source of the future. It's just not a buzzword anymore. It is a viable way for you to save time and money, while at the same time make a conscious effort to save the environment and the planet. Solar power has been revolutionized and new technology is allowing it to not only power your home, but to power personal devices such as cell phones, personal entertainment systems, and other electronic devices that you could use in virtually any situation.
Whether you are a first responder to an emergency situation, you want to go camping, or you just want a radio on your next boating trip to work without batteries, personal solar power is the new-age way to get the power without using batteries or other environmentally damaging power sources.

Solar power is now affordable to everyone and is available in a variety of ways to help save the environment.

Where solar power used to be laughed at by skeptics, it is now being embraced as the alternative energy source that rivals hydrogen, hybrids, and other forms of alternative energy. As we try to break our addiction to fossil fuels, solar power has become the number one topic among think tanks and college professors. It has also become a topic of concern for top government officials in the relentless pursuit to break free of foreign oil and fossil fuels.

In this ebook you will learn how to make, and how you can put this type of technology in your life to save not only the environment but money. By understanding the uses of personal solar power and the uses the solar power can be used for in your home, you could get off the power grid, away from the dominance of the power companies and other industries that think they have you by the neck.

You can become independent and not rely on corporate power grids or government sanctions. With the secrets revealed in this ebook you'll be able to not only have personalized solar power equipment, but you will be able to understand some primitive solar power technology that you can put to use in your life to become more independent from government or corporate powers.

You have probably heard about how solar power is the wave of the future. These rumors are true. The information key contained within this text may not only make you dependent of the power grid, but give you a way of being successful using the power of the sun. Not only do you get independence, but you save money.

ADDITIONAL INFORMATION:
eBook Format: Adobe PDF
Platform: Windows and Macintosh
Download Format: Compressed .ZIP
File Size: 1,160 KB
Master Resell Rights: Yes!
Sales Page Included: Yes!
You will get an instant download of this product after purchase.