Palmistry Secrets Revealed – $2.50
Master Resell Rights Included!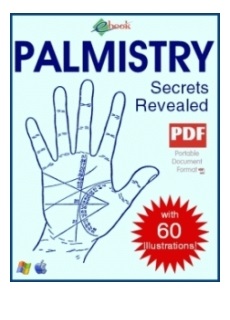 The study of hands can be traced back to the very earliest, most enlightened forms of civilization. It has been practiced by the greatest minds in all those civilizations that have left their mental philosophies and their monuments for us to marvel at. India, China, Persia, Egypt, Rome — all in their study of mankind have placed the greatest store in the study of the hand.
In this 205-page ebook, you will find out many secrets, such as:
How a particular characteristic of the fingers reveal an individual to be possessing coarse instincts, devoid of real intellectuality, and belonging to the lower order of humanity.
How the length and girth of the fingers can tell that an individual is not suited to business or any work requiring "level headedness" and practicality.
How the joints of the fingers can tell if one is dependable or impulsive, would lack a sense of detail or a love for detail in his own work, would be visionary, artistic, and emotional.
How to tell if an individual desires glory, celebrity, publicity and the like.
How to tell if an individual has the love of spending money and gambling tendencies.
How a particular curve of a line reveals an individual to be extremely sensitive, who generally separate themselves from others, and often retire from the world altogether to live a solitary life.
How one line has an intimate connection with the vital organs of the body which enables it to foretell the length of life from natural causes.
How "The Line of Destiny" undoubtedly indicates the main events of one's career.
Why one particular line on the hand is considered the most important of all lines.
And so much more …
205 Pages.

ADDITIONAL INFORMATION:
eBook Format: Adobe PDF
Platform: Windows and Macintosh
Download Format: Compressed .ZIP
File Size: 3,078 KB
Master Resell Rights: Yes!
Sales Page Included: Yes!
You will get an instant download of this product after purchase.