Leaving A Legacy: How To Fulfill Your Calling & Find That Inner Voice – $2.50
Master Resell Rights Included!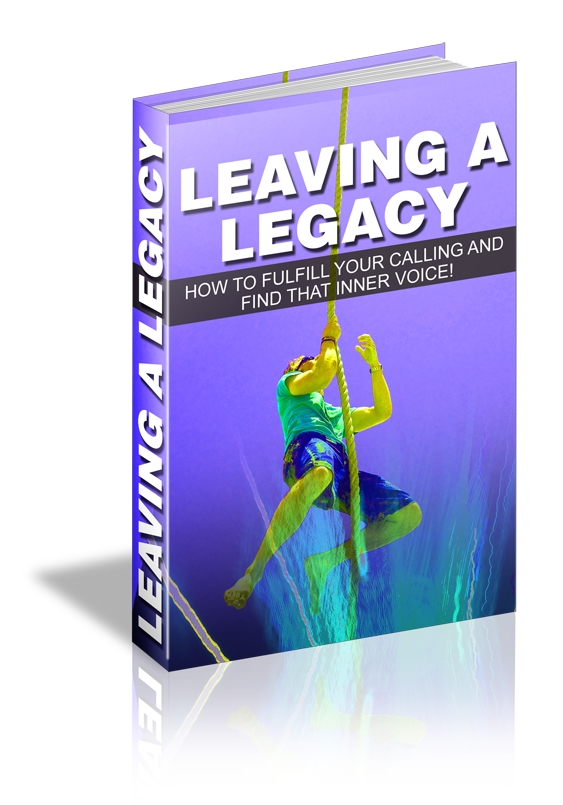 Legacies aren't automatic; they are carefully built. You have to cherish the right goals and ideals. This 47-page eBook tells you how you should go about it.
Leaving a legacy is something most people don't consciously think about, and those that do, are thinking of a larger picture, something that's bigger than life itself. But, how do you leave a legacy for others to follow and peruse?
When individuals imprint their deeds in the hearts and mind of people around them, they leave behind a legacy. You can start planting seeds today to institute your own legacy. People who leave rich legacies behind are aware of the importance of the richest asset of all – time.
This ebook includes the following chapters:
Chapter 1:
How to Leave a Legacy
Chapter 2:
Be a Famous Grandfather (or Grandmother)
Chapter 3:
Taking Charge of Time
Chapter 4:
A Sense of Meaning and Purpose
Chapter 5:
Go Viral!
Chapter 6:
5 Things You Can Do Now for the Hereafter
Chapter 7:
5 Things You Can Do Starting Today
Chapter 8:
5 More Things You Can Start Right Away
Chapter 9:
Run and Spread the Message
Chapter 10:
Plant Seeds, Many Seeds
ADDITIONAL INFORMATION:
eBook Format: Adobe PDF
Platform: Windows and Macintosh
Download Format: Compressed .ZIP
File Size: 1.68 MB
Sales Page Included: Yes!
Master Resell Rights: Yes!
You will get an instant download of this product after purchase.