How to Start Your Own Scrapbooking Business (PLR) – $2.99
Private Label Rights Included!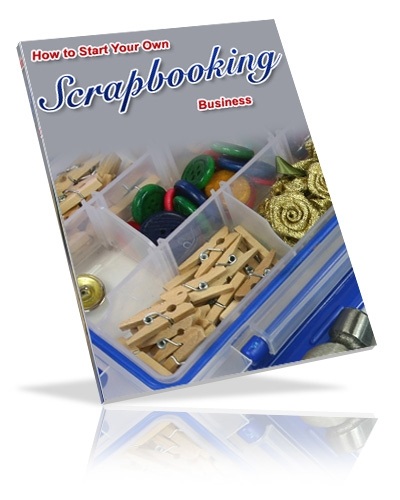 Industry estimates say that scrapbooking is the fastest growing hobby in the United States today generating over $1.4 billion dollars in revenue for those involved in the business. Wouldn't you love to have a piece of that $1.4 billion dollars? So many people slave away at a job they really don't like just to bring in money to the household. Wouldn't it be great if you could make money doing what you want to do? Well you can! You can start your own scrapbooking business, and we can show you how.
Set your own hours, work from home, be your own boss – it's all within reach. There are many people out there who will pay good prices to have you create memorable scrapbooks for them. The professional scrapbooking business is beginning to grow as a legitimate home-based business opportunity that can be very profitable. With this ebook, "How to Start Your Own Scrapbooking Business", we have compiled information from experts in the industry who've successfully started their own home-based scrapbooking business and make money from it.

In this ebook, we'll explore the different careers that you can pursue in the scrapbook industry. Learn about becoming:
A Direct Sales Consultant
An Event Organizer
A Product Designer
A Scrapbook Expert
A Professional Scrapbook Artist
A Scrapbook Retailer
An Online Retailer
The opportunities are endless and no matter which path you choose to pursue, you can realize your dream of being your own boss and being able to direct your own career at your own pace. Best of all, starting your own scrapbooking business doesn't have to entail spending a lot of money to get started.

Find out what you need to ask yourself before starting your business:
How to write a business plan.
Creating layouts and selling them on E-Bay.
Creating your own website.
How to write an informative e-zine.
Marketing your business.
Which types of advertising will work best.
Tax tips for the small business owner.
"How to Start Your Own Scrapbooking Business" is an easy-to-read ebook. What we've done with this ebook is compile tips and tricks from people who've successfully started their own scrapbooking business. You'll learn so much in these pages: how to name your business, what supplies you'll need, what to charge for your services, marketing your business, and finding creative ways to get your name out there.

ADDITIONAL INFORMATION:
eBook Format: Adobe PDF
Platform: Windows and Macintosh
Download Format: Compressed .ZIP
File Size: 1.62 MB
Sales Page Included: Yes!
Master Resell Rights: Yes!
Private Label Rights: Yes!
You will get an instant download of this product after purchase.