How to Read the Crystal – $2.50
Master Resell Rights Included!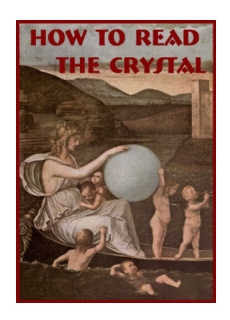 From the eBook:
"The Crystal itself is a clear pellucid piece of quartz or beryl, sometimes oval in shape, but more generally spheroidal. It is accredited by Reichenbach and other researchers with highly magnetic qualities capable of producing in a suitable subject a state analogous to the ordinary waking trance of the hypnotists. It is believed that all bodies convey, or are the vehicles of, a certain universal magnetic property, variously called Od, Odyle, etc., which is regarded as an inert and passive substance underlying the more active forces familiar to us in kinetic, calorific, and electrical phenomena. In this respect it bears a position analogous to the Argon of the atmosphere. It is capable of taking up, sympathetically, the vibrations of those bodies or elements to which it is temporarily related. But of itself it has no activity, although in its still, well-like, and calm depths it holds the potentiality of all magnetic forces. This Odyle, then, is particularly potent in the quartz or beryl, when brought into activity by the intention of the seer. It produces and retains more readily in that form the various images communicated to it from the soul of man. And the soul, in this connection, must be regarded as the repository of all that complex mass of emotions, thoughts, impressions, perceptions, feelings, etc., included in the inner life of man.

The Crystal exerts a very definite and sensible effect upon the nervous system of a certain order of subjects. It does not affect all alike, nor act in exactly the same way on those whom it does so affect. Where its action is more or less rapid and remarkable, the quartz or beryl Crystal may be taken as the most effective medium for producing the vision."

CONTENTS:

Chapter I. A Postulate
Chapter II. Qualifications
Chapter III. Preliminaries
Chapter IV. The Vision
Chapter V. Difficulties
Chapter VI. Symbols
Chapter VII. Some Experiences
Chapter VIII. Directions for Using the Ovoids and Spheres
for Crystal or Mirror Vision
Chapter IX. Consise Dictionary of Astrological Terms

ADDITIONAL INFORMATION:
eBook Format: Adobe PDF
Platform: Windows and Macintosh
Download Format: Compressed .ZIP
File Size: 953 KB
Master Resell Rights: Yes!
You will get an instant download of this product after purchase.