How To Live An Optimal Life – $2.50
Master Resell Rights Included!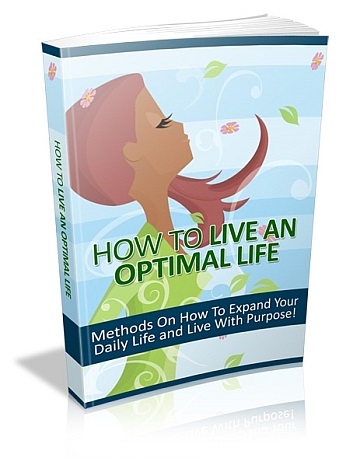 How many people do you know who will state that their lives are optimal? If you look around, you might think that happiness has ceased to exist.
But, if you want to make your life optimal, you have to take things in your own hands. You have to shape your own life. Our lives are only as optimal as we want them to be. We have it entirely in our hands how beautiful we want to make our lives. If we want to sit and brood that life is toying with us in every way possible, it is. But if we plan to take things in our hands and not let life jerk us around, it won't.

We make our own optimal lives. All we need is the right knowledge on how to do that. Here in this ebook is how you can do that, starting today.

Table Of Contents:
Chapter 1: What Is an Optimal Life?
Chapter 2: What Do You Need for an Optimal Life?
Chapter 3: Striking the Balance between Health and Wealth
Chapter 4: Your Family and Your Life
Chapter 5: 3 Practical Essentials for Optimal Living – Food, Fun and Exercise
Chapter 6: Your Sex Life – An Undeniable Aspect for Your Optimal Life
Chapter 7: Have a Hobby
Chapter 8: It Is Not Just about the Present
Chapter 9: Is Your Life Optimal Today?
Chapter 10: Putting Your Self in Your Life

ADDITIONAL INFORMATION:
eBook Format: Adobe PDF
Platform: Windows and Macintosh
Download Format: Compressed .ZIP
File Size: 672 KB
Sales Page Included: Yes!
Master Resell Rights: Yes!
You will get an instant download of this product after purchase.