Choosing Alternative Fuel – $2.50
Master Resell Rights Included!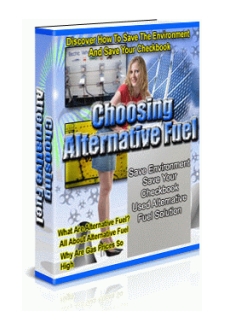 Discover the most important tips on choosing an alternative fuel to not only save the environment but also save your checkbook. This ebook covers everything there is to know about alternative fuel and it's easily understandable to the average person.
Has the rising fuel prices taken over your checkbook? Are you tired of paying these ridiculous high prices? If you want to know the facts about alternative fuel, this ebook is for you.


In This Guide, You'll Discover Things Like:
Discover what are alternative fuels


Learn why gas prices are so high.


Find out about alternative fuel vehicles.


Discover how we are hurting the environment.


Learn how Uncle Sam is reacting.


Discover how this is effecting global warming.


Finding out startling statistics.


Discover how you can help the environment.


Learn the meaning behind the numbers at the pump.


Discover why nonleaded gas costs more.


Learn how the greenhouse effect from your car works.


Discover what a "green vehicle" is.


Learn how to check if your car can run E85.


Plus much more.
ADDITIONAL INFORMATION:
eBook Format: Adobe PDF
Platform: Windows and Macintosh
Download Format: Compressed .ZIP
File Size: 3,330 KB
Master Resell Rights: Yes!
Sales Page Included: Yes!
You will get an instant download of this product after purchase.