Believe It and You Will Achieve It (PLR) – $2.99
Private Label Rights Included!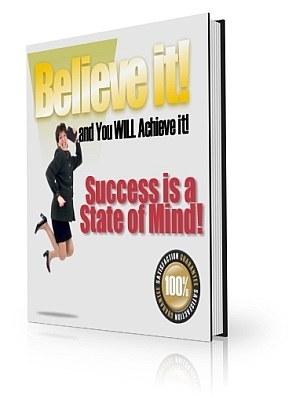 In this 156-page ebook, you'll read about a variety of topics, such as Law of Attraction, Energy Healing, Meditation, Intuition, Natural Medicine, and much more.
Table Of Contents

10 Inspirational quotes than can improve yourself.
10 Questions you should ask yourself.
10 Ways to empower your communication.
10 Ways to start taking control.
Be happy.
Bring innovation into your life.
Build your self esteem a starter guide to self improvement.
Coaching an easy way to make things happen.
Develop your intuition.
Dream your life.
Energy healing.
Enjoy your life change your point of view.
Every problem has a solution your guide to creative problem solving.
Good use of relaxation.
Grow spiritually a guide to spiritual development.
Harnessing your attraction power.
Herbal supplements is it worth the risk-yes.
How natural medicine can help you.
How to be genuinely happy.
Its time to start a Healthy life.
Make it happen be a leader.
Meditation techniques.
Motivation the heart of self improvement.
Positive attitude can change the world around you.
Self empowerment using people unlock your social potential.
Self improvement and success.
Start your own coaching.
Take decision live your own life.
The basics of goal settings.
The power of relationships.
Unleash your creative thinking.
Unlock your self improvement power.
What can time management bring to your personal growth.
What you should know on Leadership.
Why is it important to improve yourself.
Your 5 minute daily program to Stress management.
Your 7 days program to Positive thinking.
Your 7 days program to self improvement.
Your 7 days program to Stress management.
Your secret to success: have a vision of who you are and want to be.

ADDITIONAL INFORMATION:
eBook Format: Adobe PDF
Platform: Windows and Macintosh
Download Format: Compressed .ZIP
File Size: 1.02 MB
Master Resell Rights: Yes!
Private Label Rights: Yes!
You will get an instant download of this product after purchase.