Alternative Energy (PLR) – $2.50
Private Label Rights Included!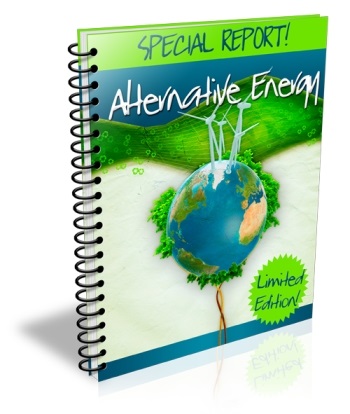 A major advantage of renewable energy is that it is renewable therefore it is sustainable and will never run out. More importantly renewable energy produces little or no waste products that may pollute or has harmful effects on the environment. Using alternative energy source can be both beneficial and difficult. Let us explore the different pros and cons of alternative energy source.
TABLE OF CONTENTS:

Alternative Energy Sources: A Brief Glimpse
Alternative Energy Source: Pros and Cons
Out of the Ordinary: Alternative Energy Sources
Alternative Energy Sources: Helping Businesses Succeed and Gain Positive Reputation
Alternative Energy Sources: Helping Out in Times of Energy Crisis
Running Unconventionally: Alternative Energy Sources for Cars
Warming Up: Alternative Energy Source and Global Warming
Alternative Energy Sources: The Best Aid in Times of Crisis
A Bright Future for Solar Energy: An Alternative Energy Source
How to Spread the Word Out about Alternative Energy Sources without Spending Too Much

ADDITIONAL INFORMATION:
eBook Format: Adobe PDF
Platform: Windows and Macintosh
Download Format: Compressed .ZIP
File Size: 2.53 MB
Master Resell Rights: Yes!
Private Label Rights: Yes!
You will get an instant download of this product after purchase.