Total Wellness Guide – $2.50
Master Resell Rights Included!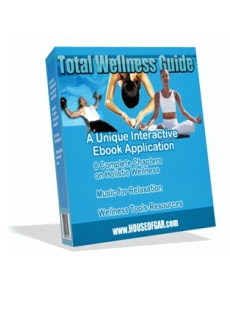 This is your ultimate resource for optimum health and wellness. A mult-media resource with video, audio and over 500 pages of current holistic wellness information to support you on your journey to total wellness.
Including special features, music for relaxation and meditation, fitness and nutrition tools to help you track your wellness programs and plan nutritious low calories meals.

Today more than ever we are bombarded with health news and information, in this day and age it's getting harder to make wise decisions about our health. At last you can now have access to an easy to use and current health and wellness resource guide edited and compiled by a Registered Nurse. The Total Wellness Guide contains hundreds of current, quality pages of holistic health information with resources for organizing your life, improving your emotion wellness, nutrition tips and fitness and exercise guides.

In addition to pages of practical health information, the Total Wellness Guide includes streaming health news video and quality MP3 music.

ADDITIONAL INFORMATION:
eBook Format: .EXE
Platform: Windows Only
Download Format: Compressed .ZIP
File Size: 3,489 KB
Master Resell Rights: Yes!
Sales Page Included: Yes!
You will get an instant download of this product after purchase.